I think I may have actually finished a project bigger than a scarf/mittens/beanie that I'm actually going to wear.

I present to thee.... Amelia Raitte/Anna Bell's beautiful Cherry Cardigan which can be found at her site .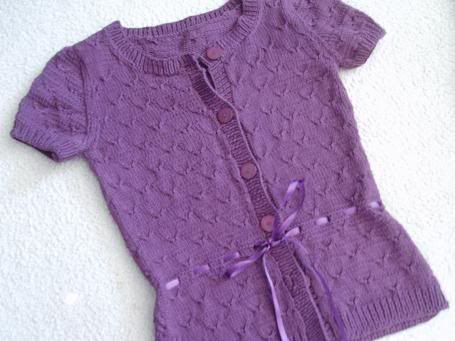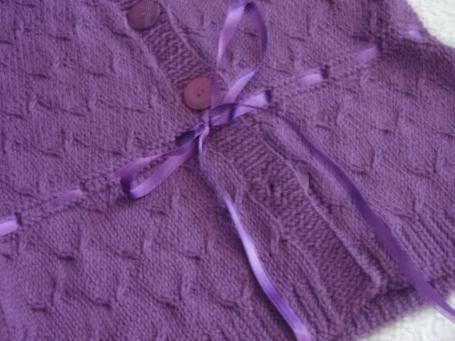 Project Details:
Pattern: Cherry Cardigan by Amelia Raitte

Yarn: Jo Sharp Summer Soho Cotton DK

Needles: 3.25mm and 3.75mm straight needles and cable needle. I knitted a little smaller to gauge as my things are often slightly too big for me.

Comments: I loved this one :) The pattern was relatively easy to follow, but was kept interesting with the cabling pattern, and took just over a few weeks to complete. Amelia Raitte writes her patterns really well - for dummies like me, I don't enjoy the whole "do as left side reversing all shaping". I like to be told what to do, and Amelia Raitte does exactly that.
This was also my first time knitting with Jo Sharp's summer soho cotton, and it was also the yarn dictated in the pattern. As an Australian, Jo Sharp's yarns are good value for the quality. The cotton is smooth to work with, gliding over the needles and through your fingers. It's not as harsh as many other cottons I've worked with and in terms of cottons, it's definitely one that I do enjoy. My only angst with the cotton is that it split alot whilst I was knitting. The loosely spun threads kept splitting, and even more so when I had to frog backwards. However, as an averall cotton yarn, I much prefer this yarn to many that I have worked with.
And fit of the cardi? The fit is lovely. The eyelet detail at the waist means you can draw in the cardi as much as you please. I finished the cardi with a ribbon instead of the cord that Amelia Raitte used because the little glimmer adds a little sparkle to the cardi.
It's definitely in a style that I love - cardis with ribbons, and little detailing. Very Alannah Hill-esque minus the beads and sequins. The cardi fit very nicely, but as all cottons go, it is a little heavy to wear. That aside, I am definitely going to make a few more of these cardis in several other colours, and team them for both work and play :)